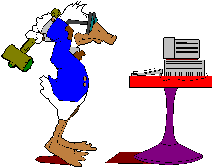 Do YOU Feel like this when it comes to HTML?

Are you Looking for someone who knows computers as well as HTML?
Let me write your Web page at a reasonable price.
The World Wide Web (WWW)
There is a technological and cultural "revolution" taking place today and it's name is the Internet. Perhaps the most exciting part of the Internet is the World Wide Web (WWW), an enormous interlocking network of personal and commercial "sites" being used by both companies and individuals. Web Sites are being used to advertise the services of the businesscommunity, along with the personal "pages" of professional people. The advantages of having a web site are evident, especially where business is concerned. A web site can be seen by thousands of people each week. It can advertise the services of a business as well as the skills of an individual (such as a writer, editor or graphic artist). It can increase the volume of business being generated by a company, as well as providing useful information relevant to the viewer.
The Advantage of Having A Web Site
Atchafalaya Computer Consulting has both the skills and tools to create the most attractive and effective web sites, for both the business community and individuals. We understand the importance and significance of the "web" and are here to help you promote your services to the world at large. A web site promoting your business has the potential of reaching an even larger share of people, especially those within the rapidly growing computer and internet community at large. A great many of these individuals are highly educated, professional people interested in learning more about what the world around them has to offer. Your web site can be listed in any number of directories and business associations, giving you both the exposure youneed to succeed in today's growing global economy; and keeping you on the "cutting edge " of today's technological world.
Resources And Tools
Our studio has the ability to access all the relevant information in order to create the most effective web site for either a business or an individual. Our tools include an enormous array of textures, icons, graphics, images and the most recent software applications- in short, everything you may require in order to have the most professional and appealing web site possible.We are constantly adding new resources and tools to our ever expanding knowledge of web design and creation. Whatever we don't have in our studio in Austin can be found on the Internet itself. We can "link" your web site to another site on the web, including data banks, internet directories, libraries, various associations and professional organizations. Having your own web site will give your business the positive advantage of being on today's technological leading edge. Having a web site will also help give your business or organization the means to communicate with anyone around the world through electronic mail.
Services
Atchafalaya Computer Consulting will perform the following services for a client in order to design, create and maintain a web site:
Do the layout and graphics for your web site as you request.
We will set up your web site on the World Wide Web for you. This includes routine maintenance and revision.               
We will host your web site or help you find a reliable Internet Service Provider if you don't already have one.
We will register your web site to all major listings and indexes on the World Wide Web, in order for people to find you.
Prices
Our basic fee for web site design and creation is $25/hr. This includes consultation, design, layout, creating computer-generated images, html coding and installation of your site on the World Wide Web. This hourly rate also includes marketing your site, consulting and basic graphic design-related duties (such as creating "thumbnail sketches" and "roughs"). For a more complete breakdown of all services and prices, feel free to contact us directly.